ENTERPRISE INFO PAGE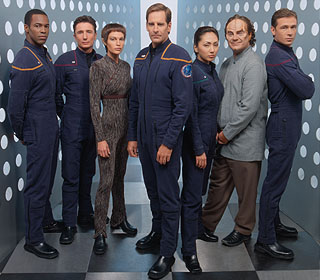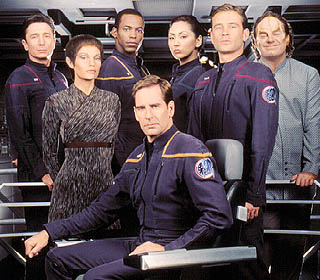 Scott Bakula - Captain Jonathan Archer

Scott Bakula is perhaps best known for his five-year stint on the innovative television series Quantum Leap, which brought him a Golden Globe for Best Actor in a Drama Series and four Emmy nominations.

Born in St. Louis, Missouri, Bakula moved to New York in 1976 where he pursued a career on the stage. In 1988 he was honored with a Tony nomination for his starring role in the Broadway musical "Romance-Romance." He had earlier made his Broadway debut as Joe DiMaggio in "Marilyn: An American Fable."
Bakula has received high praise for his work in a variety of feature film roles including the 1999 Academy Award-winning "American Beauty," and has recently completed "Life as a House" with award-winning director Irwin Winkler. Other films to his credit are "Lord of Illusions," "Major League: Back to the Minors," "A Passion to Kill," "Mi Familia/My Family," "Color of Night," and his 1990 film debut for director Carl Reiner, "Sibling Rivalry."

Alternating between film and television, Bakula has appeared in such recognized series as Designing Women and Murphy Brown, and in the mini-series "A Girl Thing" and "The Invaders," as well as the telefilms "Mean Streak" and "Papa's Angels," which he starred in and produced. Bakula recently wrapped production on "What Girls Learn," an original telefilm for which he also acted as an executive producer through his BPI Productions in association with Paramount Network Television.

His singing ability has afforded him some special opportunities including performances at the Kennedy Center Honors, at Carnegie Hall and at the Hollywood Bowl with Carol Burnett, as well as the animated musical "Cats Don't Dance" as Danny the cat.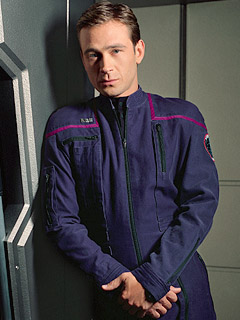 Connor Trinneer - Commander Charlie "Trip" Tucker

Born in Walla Walla, Washington, Connor Trinneer attended Pacific Lutheran University in Washington where he played college football and ultimately discovered the theatre. He graduated with a B.F.A. in Acting and then went on to receive an M.F.A. in Acting and Directing from the University of Missouri in Kansas City.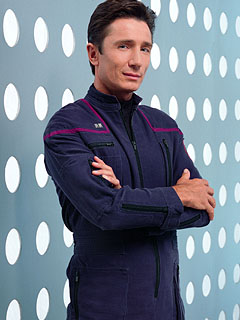 Dominic Keating - Lieutenant Malcom Reed

Born in Leicester, England, Dominic Keating's early stage performances led his instructors to single him out as a "bright, young hope." Nevertheless, his major studies at the University College in London earned him a B.A. with honors in history, not theatre arts. But Keating kept the acting flame alive through the academic years, participating in several University productions and pondering an eventual leap into the professional theatre.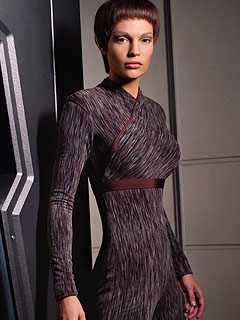 Jolene Blalock - Sub-Commander T'Pol

Jolene Blalock starred as Medea, the mythic princess and sorceress of the Isle of Colchis in the 2000 NBC miniseries "Jason and the Argonauts" opposite Jason London, Dennis Hopper, Frank Langella and Natasha Henstridge. She will star in the upcoming television miniseries "Diamond Hunters" opposite Alyssa Milano and Roy Scheider. Blalock also recently wrapped the Showtime film production "On the Edge." Other television credits include guest spots on C.S.I.: Crime Scene Investigation, Dick Wolf's D.C., JAG, G vs E and Veronica's Closet.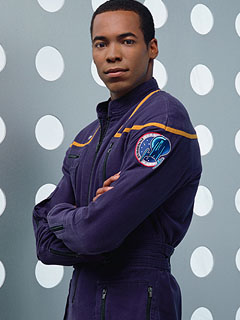 Anthony Montgomery - Ensign Travis Maywhether

Anthony Montgomery began acting while studying at Indiana University - Purdue University at Indianapolis. He then transferred to Ball State University in Indiana, where he graduated with a B.S. in performance theatre and drama. Montgomery also did stand-up comedy in Indianapolis and worked on the set of the film "Hard Rain" as a background performer and production assistant. Before long, he moved to California and landed a role as the host of the television series Awesome Adventures.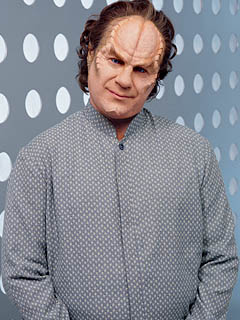 John Billingsley - Dr. Phlox

John Billingsley was born in Media, Pennsylvania, to a family that moved frequently in his early years. When they settled in Weston, Connecticut, Billingsley appeared in school plays and went on to study theatre at Bennington College in Vermont. Later, he moved to Seattle where his acting talents were showcased in numerous regional stage productions. In 1989 Billingsley founded Book-It Repertory Theatre, a Seattle-based theatre company devoted to adapting fiction to the stage, where he spent five years directing and performing shows. He also co-founded Freehold, a Seattle acting studio.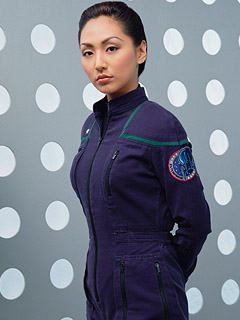 Linda Park - Ensign Hoshi Sato

Born in Korea and raised in San Jose, California, Linda Park began performing in theatre productions in high school and went on to study acting at Boston University where she received a B.F.A. Now, only one year after graduation, she joins the cast of Enterprise.


(HOME)